As we are truly appreciative of all your aid to our church, ministries, and organizations, we would like to extend to you the opportunity to give tithes, offerings, pledge, and ministry support through this website. It's fairly simple too!
Simply text the word Give with the amount (e.g. Give 100) to (561) 223 8384. The gift will be applied to the first fund listed in the Funds section of this page. To give to a different fund, include the fund name after the amount (e.g. Give 100 Missions) and follow instructions after sending the text. Or just go to the website directly at myBethelBaptist/Giving.
Through the online giving approach, you may be able to give one-time payments or recurring payments at your convenience.
If you need additional assistance, follow these instructions, using the example of a $10 gift: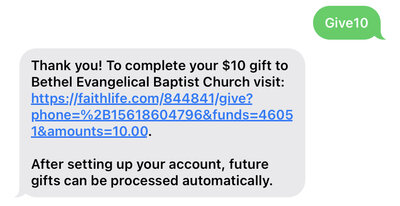 When you click on the link, you will see this page: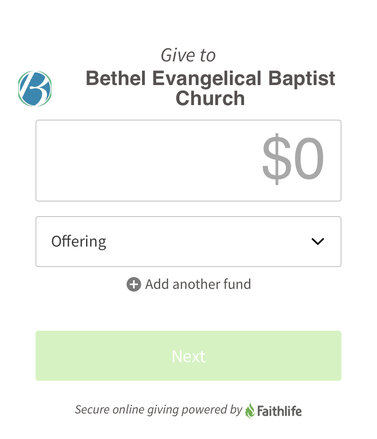 Begin by entering the amount you would like to donate.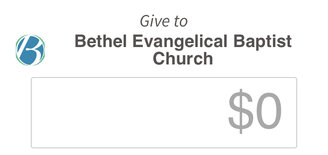 By Default, the giving form is set to "Offering". You can leave the choice as is, or choose which fund you want to give to.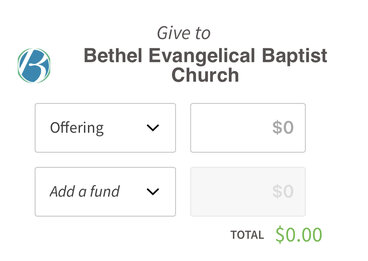 Underneath you will find a drop-down search bar, choose which fund you would like to give to.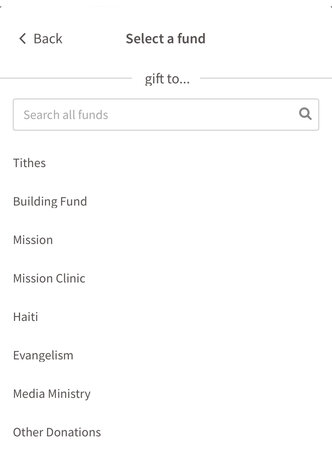 After choosing which category you would like to donate to, you will add the amount you want to give.
Next, you can choose to do a One-time gift or set up an automatic recurring gift, with the option of paying as a Family or Organization.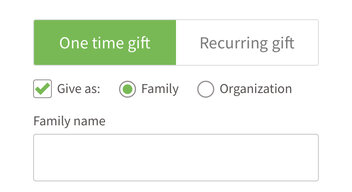 When finished, review your Fund and gift amount. When satisfied, enter your payment choice and click submit. *You do not have to enter your address*
You're finished! Thank you for your support.